Canyoneering Vehicle Safaris

4 Day/3 Night Vehicle Safari - $1,525 Per Person Rate includes your Guides, Camp Chef/Manager, Gear and Food. Tax and Gratuities not included. **Minimum Rate Applies.
Our Canyoneering Vehicle Safaris are designed to suit the adventurous first time canyoneer along with guests that have prior canyoneering experience. Guests follow the Excursions crew in their own vehicles to our base camp, situated in Escalante's remote back country. By having the vehicles at base camp, guests are able to pack whatever they please, as weight is not an issue. Days are spent descending epic canyons. Each day guests are greeted back at camp with appetizers and hot showers before sitting down to a four course dinner with stunning views of an Escalante sunset. After dinner guests can sit around the campfire, view the Milky Way (with your own eyes!) or retire to roomy tents for a good night's rest.

**Our Multi-Day trips are All Inclusive. We provide all camping equipment, including sleeping bags, pads, and tents. All food and snacks are provided and prepared by our staff. From the sunscreen to the daypacks and canyon gear we've got you covered!**

Canyoneering Vehicle Safari Information

• No prior rope experience necessary.
• Base camps are approximately 1-2 hours driving on dirt roads from our shop.
• Guests will drive their own vehicle to base camp and canyons each day.
• We provide all necessary camping equipment and canyoneering gear.
• We provide all meals and snacks. Sample dinner menu below.
• Tours begin at our shop (125 E. Main Street, Escalante) at 8:00AM and we generally return between 3:30PM-5:00PM on final day.
• The guides determine each day's canyon the morning of the trip based on the group and weather. Safety First.
• We take up to 8 guests on the Canyoneering Safari trips. (We can accommodate up to 9 guests on Private Trips).
• There are 2 guides and 1 camp manager/cook on these trips.
• 4 Day/3 Night Minimum
• No other guide service guides these canyons. Prepare for a truly "off the beaten path" experience!
Prerequisites
• Ages 12+ years are welcome. Our average group's age range is 40-65 years young.
• Guests must be comfortable hiking between 3-5 miles on uneven terrain/no trails.
• Guests must be able to carry a day pack weighing approx. 10lbs, containing 2-3 liters of water, lunch and canyon gear.
• An SUV or vehicle with more clearance than a regular car or minivan is needed. Though 4x4 is not necessary.
Sample Dinner Menu
Appetizers:
Hummus, Jarlsberg Cheese and Multi-Grain Crackers
Soup:
Roasted Red Pepper and Tomato
Salad:
Mixed Greens tossed in Aged Balsamic,
Olive Oil with fresh cracked pepper and salt
Dinner:
Marinated and Grilled Pork Tenderloin, Grilled Asparagus and Couscous
Dessert:
Warm Apple Pie
Schedule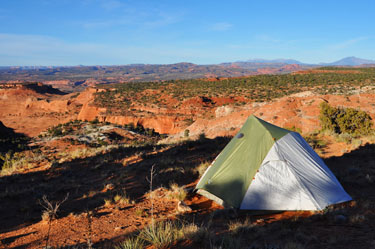 "Just back from three nights and four FULL days. It was one wonderful adventure – the mud will be cleaned off my boots and the shredded shorts will be replaced, but the wonderful memories, the challenges overcome, the beauty of the canyons and the camaraderie will never pass from my head. And then there was the food." Tom B. Jones