Contact Us -
PLEASE NOTE: Sometimes there are problems with incoming calls to our landline phones. If you cannot get through to us via phone, please email us at info@excursionsofescalante.com
2019 HOURS OF OPERATION:
March 25th - November 7th 2019
(Closed July 8th-18th 2019 for mid-season break)
TOURS ARE OFFERED: Monday - Saturday. We are Closed Sunday unless you are booking with a party of 5 or more.
GEAR / FOOTWEAR SHOP & CAFE: Monday - Friday 8am-5pm. Saturday 8am-12pm. Closed Sunday.
E-mail: info@excursionsofescalante.com
Local Phone: 1-435-826-4714 Or 1-800(U-EXPLOR)839-7567
Mailing Address:
Excursions of Escalante P.O. Box 207 Escalante, UT 84726
Physical Address:
Excursions of Escalante
125 East Main Street/Corner of 100E & Main
Escalante, UT, 84726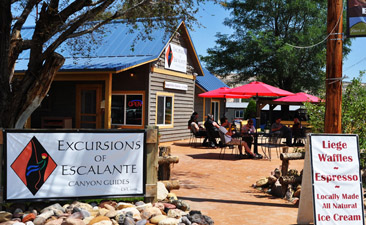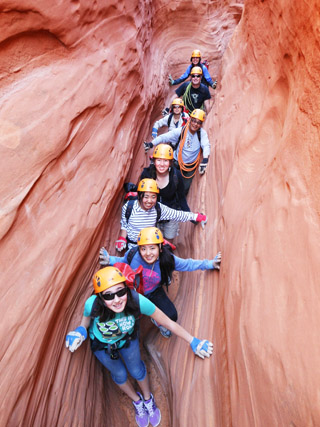 "Dear Rick, Amie & Matt - Awesome Day!! I can't believe how good you guys are to get us through all those obstacles! Thanks for the unbelievable challenge! Can't wait to come again!" All our Best - Signe & Jerry DeVall

"We enjoyed an amazing three days with Jim (and Matt for one day) at E1, AFC & E2. Stellar! From start to finish, our guides inspired confidence and were the model of competence. Thanks a ton for the experience and the memories!" Scott - Seattle, WA
"Outrageous Day with excellent guides."Rick, Amie, Jim & Matt - This was my 3rd visit with you guys/gal. Big fun, love it all. Only two more grandsons to introduce to all this. It's gonna be a ride." -Bob Burrell

"Rick & Jim - You guys are amazing! Kind, patient and skilled. It was an adventure of a lifetime! Thank you!" -Mike, Laina, Nate, Kian & Kristin

"The rest of my life will be a letdown after this. Matt and Rick--you guys were great. Thanks for the ride!" -Jen Sorenson A must for anyone wanting to experience slot canyons. Highly recommend." Paul & Beth